Why choose XiangHe Inflatable Products Factory
1, Our company Created in 2007,With more than 10 years of production experience
2, Industry-leading equipment, such as double-thread sewing machines, high-temperature welding machines, high-frequency welders, computer-controlled cutting machines, and digital inkjet printers.
3, experienced production personnel and management; all of which helps us increase productivity while decreasing costs, and ensuring product quality.
4, All of our vinyl is designed to be the strongest, and most supple in the industry. Our vinyl meets or exceeds all FR standards required in the industry today including the NFPA 701 Small and Large Scale standard.
All vinyl materials are 100% LEAD-FREE!
All materials adhere to MFR Methods:
ASTM -F24 ASTM - 2374 ASTM -1159 ASTM -1193 CAN/CSA - Z267-00 Australian - AS3533 BS EN 14960
5, Our netting is a small mesh that is easy to see through, and does not allow children to put their fingers through. Our netting is rated at 10,000 psi, and meets NFPA 701 Small and Large Scale standard.
6, We use high quality components on all of our products, i.e. hook & loop, clips, webbing, rings, etc...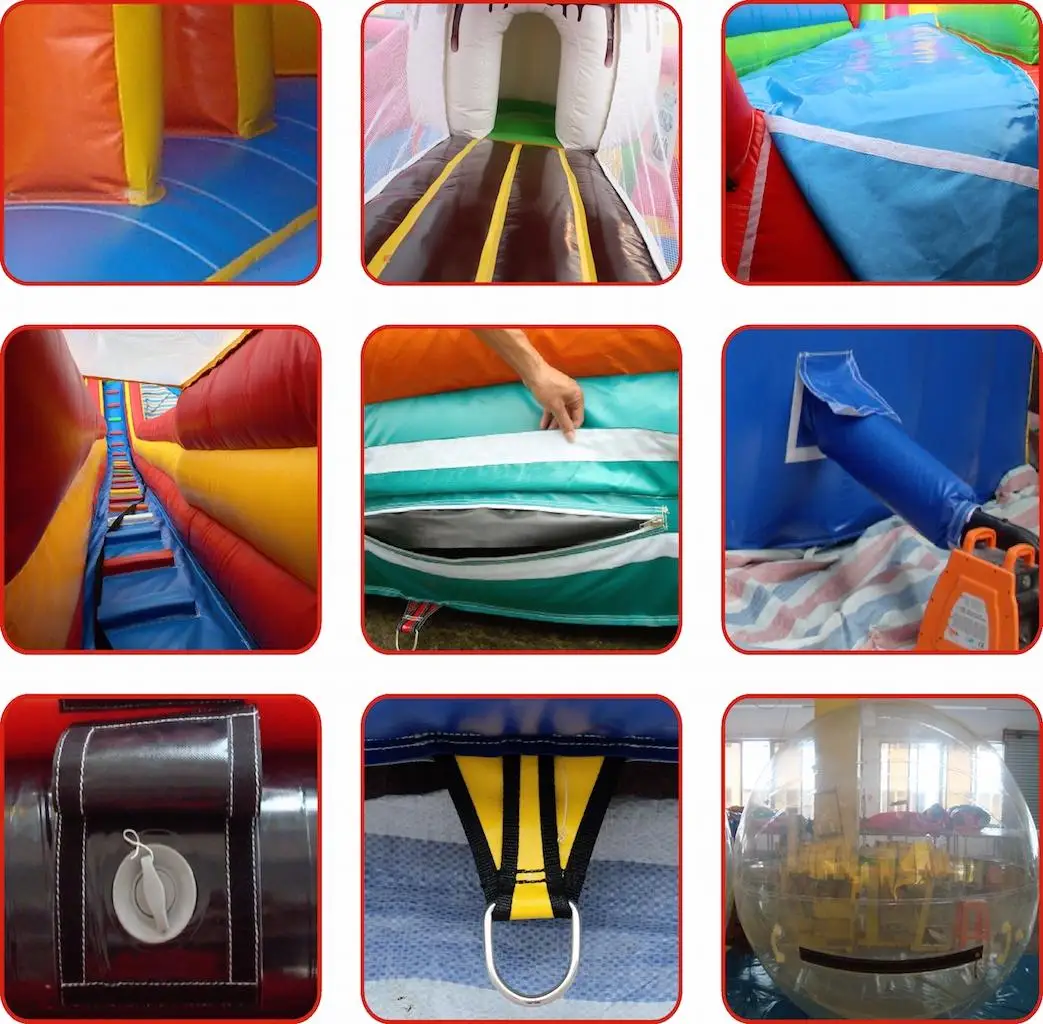 7, Products and games are packaged to arrive in a professional manner.
8, standards of service and quality for our products and persist in implementing international design safety standards. These standards include AS 3533.4.1?2005, prEN 14960:2004 (E).
9, we ensure that our products comply with or even go beyond the standards of other products on the same level.
10, With our premium product quality and our assiduous pursuit of providing customer-first services, our products are sold in many countries, and brand awareness as well as product performance are widely respected by industry colleagues and recognized by customers.
Some of the responsibilities of our Quality Assure
1, Inspection of raw goods that arrive at our factory to make sure that the materials are received as ordered, and that the specifications that we have required are met. Anything less than what we ordered is refused.
2, Inspection of our Cutting department to insure cuts are straight, colors and quantities are correct based on the order and the work environment stays clean and orderly.
3, Inspection of our Peripheral Sewing department to insure that all seams are within our specifications. As we make over 500 various peripheral items that compose the majority of the finished products our customers see, our QA is very important in this particular area.
4, Roving Inspections of inflatable production, gluing, welding, printing, painting, packaging, foam sculpting, and other areas of our factory insure that we catch a problem before it happens, so that it does not become the customer's problem.
5, Additionally, every inflatable product we manufacture is pressure tested and recorded for our record keeping purposes.
6, Our Quality Assurance department also administers employee training programs to new employees to insure that everyone is aware of, and understands the high standards that our company requires.
7, QC/Technical Support
We employ more than 3 very thorough Quality Assurance Inspectors who roam our factory in all areas to insure that all of our standards are met in more than 500 different products that we build. Our QA inspectors work directly for the General Manager of the company, and have full authority to stop production at any time as required. We take our quality control very seriously.
1 to 4 Procedures/testing Details
9, Quality Control personnel who are all experts in their respective product assignments check the quality at every stage of production, from the incoming raw materials to the finished product.